I had piano tuition aged five to eight from my great Aunt Polly. When she stopped teaching I mostly bashed away making variations on simple tunes driving the family bonkers - "Do you have to hit the keys so hard?". I started the clarinet aged thirteen and began playing trad jazz in the school band "The Kings Jazzmen" performing in my first gigs. After saving up from summer jobs for a couple of years I had enough to buy a beaten up old tenor sax and that was that. I spent many afternoons jamming with school mate Mark Griffths on bass and our art teacher Colin Biggs on drums. While at school I played tenor for several years with the South Devon Jazz Workshop led by John Jenkins with occasional sessions led by Mike Westbrook.
Around fifteen I ordered three records from the Totnes Currys - The magic of JuJu Archie Shepp, Coltrane Jazz and Outward Bound Dolphy, and really after that I never was the same again. Prior to that I had only really heard Kenny Ball and Ken Colyer on records so I was just blown away.
Bristol One - Bullit, Co-op, Both Hands Free, Outloud, Thinko, Loggerheads….
Move from London arrive in Bristol about 1978, start playing piano - well Fender Rhodes anyhow - in Bullit. Mostly playing Will Menter's pieces and a few of mine too gigging at the Crown of Roses in Bath, then some great gigs at the Avon Gorge Hotel in the 80s plus a Radio 3 Jazz Today broadcast.
Play piano in Will Menter's septet "Wind and fingers" performing at the Arnolfini and in Dunkirk. Lovely writing and arranging from Will.

Bob Helson, Ian Menter, Will Menter, Steve Mulligan, Mark Langford, Mike Whitehead
Bristol round two - the Kuff, CoMa, Fringe Free Music
Started playing again, on piano, around 2006 with Henry Orna (Djembe) and Paul Anstey on string bass. I put together a set of tunes and had a first "return" gig at BeBop club in November 2008 with Bob Helson on drums. This morphed into The Kuff.. but sadly I fell quite ill with kidney stuff going wrong over the next few years so this petered out. Slowly over a few years I regained enough energy and started playing written contemporary music with Coma Bristol. I also studied composition & harmony for one year at Bristol University Music department in 2011/12. Then in 2013 Bob Helson sets up FringeFreeMusic with help from Jon Taylor at the Bristol Fringe…and I get to play improvised music, after a 25 year holiday, with Bob, Paul Anstey string bass & Phil Gibbs guitar as the house band. Guests over the next few years include Jake McMurchie, Nic Malcolm, Kevin Figes, Mossa Buildner, Mark Lawrence, Dave Mowat, Hugh Kirbride, Vyv HopeScott, Steve Mulligan…. Just brillant to get back and play some improvised music live!
During this time I have focused my playing on the bass clarinet … what a monster to play … as well as refreshing my tenor sax and piano playing and just re-exploring the whole shooting match.
In 2014 I set up Freetone Records and we release Fringe Music CD on Bandcamp.
2016 Update
2016 was a thriving year for improvised music in Bristol. In additional to the long established FringeFreeMusic session run by Bob Helson at the Fringe Café , Hugh Kirkbride put together series of free jazz gigs at the Greenbank, Paul Anstey put on a series at Café Kino, Fat Paul continued to promote improvised musics at the Exchange and Matthew Grigg set up regular sessions at the Fringe Café. Plus various other events at the Old England, Bristol Music Club and an improvised musical festival "The Bristol Hum". All in all a resurgent improvising scene with much variety, different approaches and influences.
Lovely to welcome several musicians to Bristol including committed improvisers Roger Telford (drums) of Red Square fame and Matthew Grigg (Guitar and amplifier) .
Great to form and play with Temporary Front a trio with Dominic Lash (bass), Roger Telford (drums) and to get back together with Tony Orrell and Paul Anstey in Thinko Jazz for a few gigs and play some of my tunes.
I was delighted to join Blazing Flame quintet lead by Steve Day (Poet, writer, singer) in the Autumn. It's refreshing to get involved with a quite different approach to word and music making.
Please see projects from more recent updates…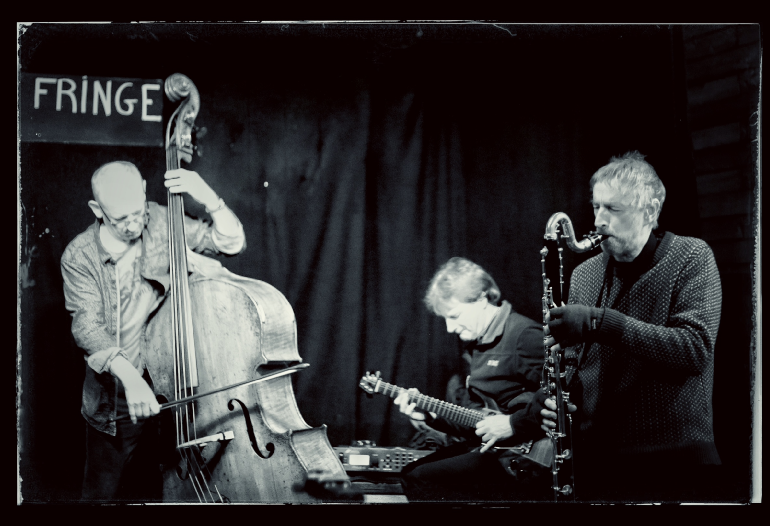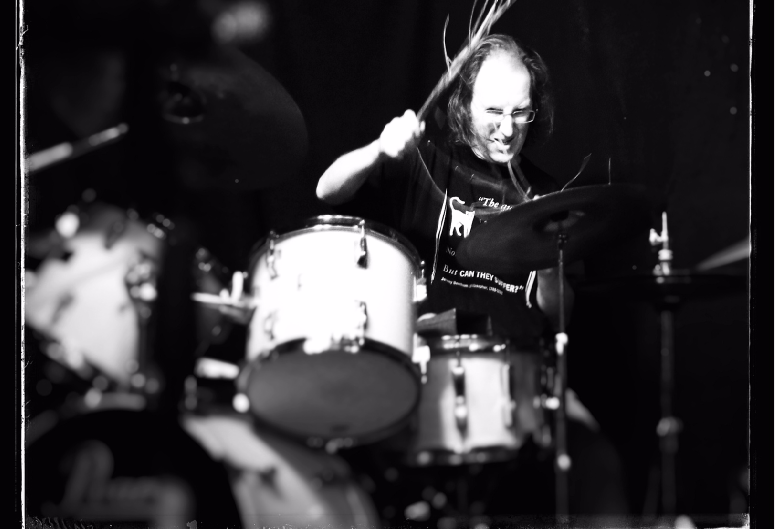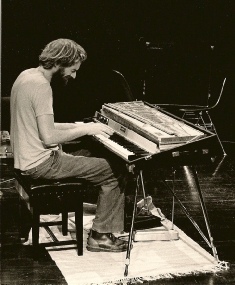 In the late eigthies with Bob Helson & Will Menter and myself we form the improvising trio Both Hands Free with. We spend several years getting learning our improvising - studying, developing vocabularies and ways of playing. Discover taking the lid off the Fender Rhodes and hitting / stroking the tines, and using a volume pedal, gives a great "fit" into our sound. Over a few years we play around Britain and then Holland, Belgium & Germany. Broadcast on Jazz Today and record LP "Use from the Pocket" - Zyzzle One
Wanting to explore my writing and play more accessible music I form Outloud circa 1985 - quartet with Jerry Underwood (Tenor), Pete Brandt (Bass) and Bob Helson (Drums). We play mostly my pieces and later a couple by Jerry, playing in and around Bristol, broadcasting on Jazz Today and also perform at the Tring Jazz Festival. I still really like the approach we used of mixing together tunes and improv which can give such an sparky edge, and moves beyond head, solo, tail ad infinitum.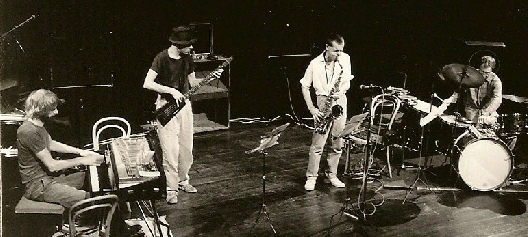 Me, Pete Brandt, Jerry Underwood and Bob Helson at the Arnolfini
See more Outloud pictures and stuff here
Late 1980s Tony Orrell (Drums) forms Thinko Jazz with me, Jerry Underwood, Paul Dunmall (Tenor/Baritone), Andy Sheppard (Tenor/Soprano), and Paul Anstey (Double Bass). Playing with three of the finest sax players out there was fairly mindblowing! We do the Tring festival and Jazz today broadcast and play at the Arnolfini with Keith Tippetts on piano. Great band! Tony, Paul and I play as a trio Mini Thinko often with guests such as Will Gregory (Alto) and Steve May (Trumpet).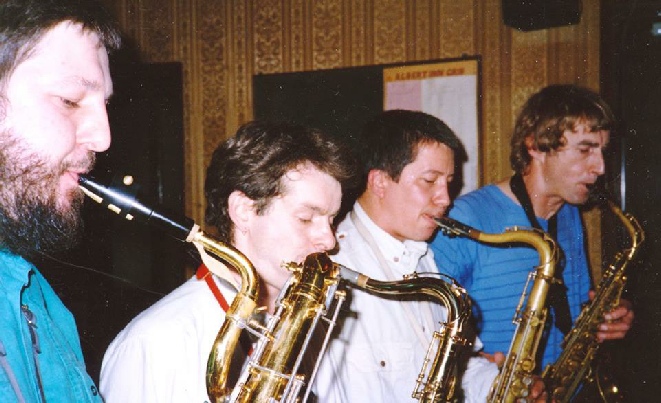 Thinko Jazz at the Moon Club, Bristol.
Paul Dunmall, Jerry Underwood, Andy Sheppard & Mark Langford
Pete Brandt invites me to play with his band the Loggerheads. With Will Gregory as musical director on alto / baritone / keyboards. Get to be in a horn section with Martin Veysey trumpet, Ray Collumb tenor and Will - lovely. Fabulous grooves from Robbie on drums and Simon Preston percussion. Hard work, lots of rehearsal, all parts off by heart… Play at Womad and the Edinburgh festival.
During this period for about ten years I earn most of my living from teaching the saxophone and improvisation. I learn loads about saxophone playing and it was great seeing students get it and improvise with passion! My students play a fab concert at the Ashton Court Festival with me, Bob Helson on drums and Ted Brewster on bass. Its a privilege.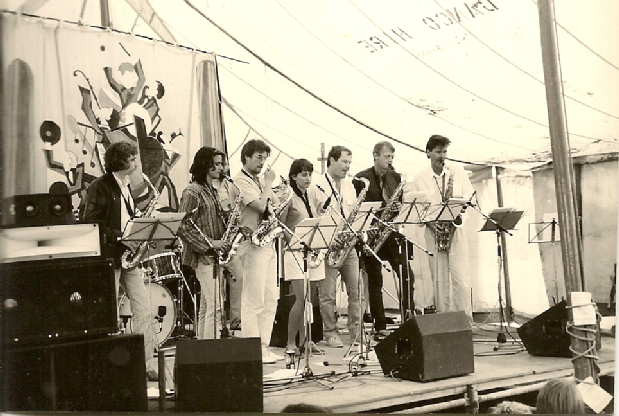 Me and students performing at the Ashton Court Festival
Then after some (!) difficulties after hernia repairs, I quit playing for the next 15..20 years, and go and earn money working in computer things, and mostly forget about music until I get made redundant and retire….then the passion for noise starts getting louder..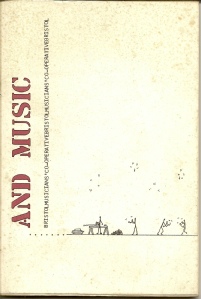 Around 1987 Ian and Will Menter lead the forming of the Bristol Musicians Coop. I end up as treasurer and it happens…. with Bob Helson, Ron Caines, Linda Martin, Roger Skerman, Will Guy and many others active in running it. The Co-op thrives for several years aided by a grant from South West Jazz putting on something like 150 gigs and three festivals in 1979,80 and 81, "Unpopular Music", "Co-operative Music" and "And Music" with musicians from around the UK & Europe. We release LPs and Cassettes on our label Zyzzle Records.