Fringe Free Music gigs at the Bristol Fringe came to an end during 2018. A great run of gigs with some fabulous music. Huge thanks to Bob Helson for running this from 2013 to 2018.]
Amongst our various guests were
Aaron Hawkins, Ashley Long John, Caitlin Alais Callahan,Chris Cundy, Dave Mowat, Dominic Lash, Dovydas Stalmokas, Hannah Marshall, Harry Furniss, Hugh Kirkbride, Jake McMurchie, John-Paul Gard, Roger Skerman, Kevin Figes, Mark Lawrence, Matthew Grigg, Mossa Buildner, Nic Malcolm , Phil Durrant, Rebecca Sneddon, Steve Mulligan, Ted Brewster, Tobias Brügge, Viv Hope-Scott, Yvonna Magda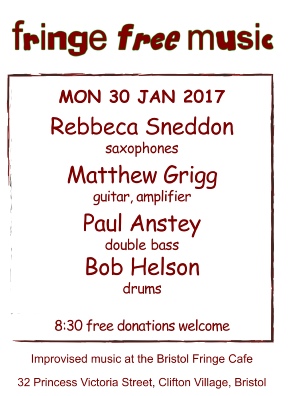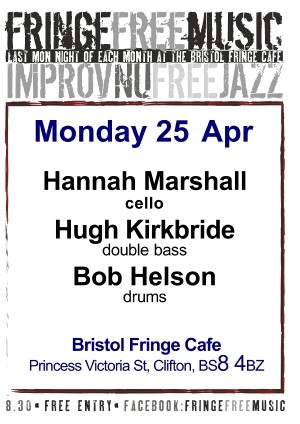 Projects (As at Jan 2017)
Thinko Jazz. With Tony Orrell (drums) and Paul Anstey (string bass) plus guest Kevin Figes (alto sax). Always such fun to play music with Tony and Paul! Playing some of my tunes as springboards for improvised connections - some from the 1980s like Elephant Dance and Crackle plus new pieces. Great to have an opportunity write tunes and riffs. Here is a review of Café Kino gig in September 2016.
Exchange. Weekly Friday sessions started up by Roger Skerman (drums) and Hugh Kirkbride in 2015, now with a core including Paul Anstey, Phil Gibbs, Dave Jones and Roger Telford. Released a CD "Exchange" in Jan 2017.
Fringe Free Music. Amazingly this "last Monday of the month" improvised gig in now just starting its fourth year! This is with Bob Helson (drums) who is the main organiser, Phil Gibbs (guitar) and Paul Anstey with a guest or two each month. Fringe Music CD available here
Temporary Front (aka Konik). Trio with Dominic Lash (string bass) and Roger Telford (drums), Played first couple of gigs in 2016, had great fun and releasing a CD soon.
Blazing Flame with Steve Day (vocals and words), Pete Evans(Electric Voilin), Anton Healey(drums), Julian Dale ('cello and double bass). Playing to words and verses by Steve this is challenging, different and exciting working on specific pieces. CD "The Set List" due out soon.
Contact Dance. I have worked with contact improv dancers at Hamilton House over the last 3 years enjoying the challenge playing with dancers and movement, developing a different vocabulary and approach. Very illuminating as the only musician so everything can be heard .. but also the dance is the main event so relaxing to play in a supportive / collaborative way with plenty of space.
Projects (As at Jan 2020)
Konik - Trio with Dominic Lash (string bass) and Roger Telford (drums), continues going from one marvel to another! New for 2021 our live CD - "konik live - set & chunks" has been released following our studio CD Angel Pavement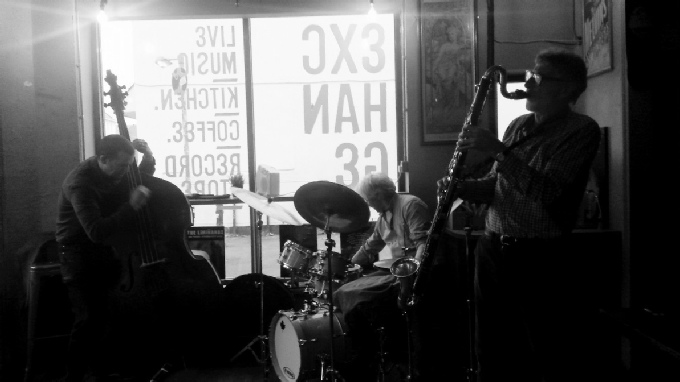 Konik live at the Bristol Exchange - Lash, Telford & Langford (L to R)
Poetry and Music
I have been working with Steve Day since 2018, developing ways of structured improvisation to meld with his poetry, mostly with Steve and myself as a duo, but also with Julian Dale on bass and Dave Mowat on trumpet and Flugelhorn. This has developed really well and also given me a rare chance to play the piano. Have been practising! We have now released a CD in Feb 2020 - Pairing on Freetone Records.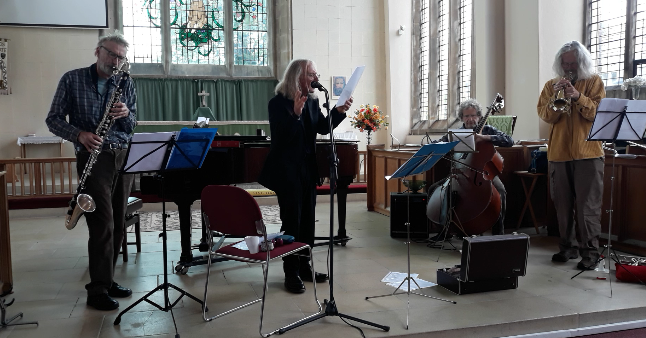 ML, Steve Day, Julian Dale & David Mowat, October 2019 at St. Francis' Church
Exchange. Weekly Friday sessions started up by Roger Skerman and Hugh Kirkbride in 2015, amazingly continue, with a core including Paul Anstey, Phil Gibbs, Roger Telford and Aaron Hawkins. Since January 2018 we have run a nearly weekly improvised music gig on Sunday afternoon instigated by Roger Telford.
ALT trio and Gadget
Two more classic retakes on the jazz trio of horn, bass and drums with Roger Telford - ALT trio with Paul Anstey bass, and Gadget with Hugh Kirkbride. One of my favourite groupings, three gives space.
Contact Dance. I have continued to work with Contact Improvisation, and its great fun and quite a different way of playing. Continues to be a lovely challenge.
Blazing Flame. We have released 2 Cds - The Set List Shuffle and Wrecked Chateau. Also got to play at the Vortex in 2018.
Phonics. Still working on all the noises and multiphonics I can find on both the tenor saxophone and the bass clarinet. There are always more, forever, and I have started working through "Les Sons Multiples Aux Saxophones" by Daniel Kientzy. I also annotate the various cross fingerings for phonics that I discover in an attempt to find the sounds in a reliable way!

And the blast from the past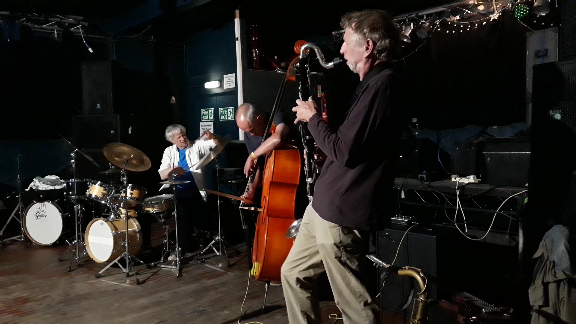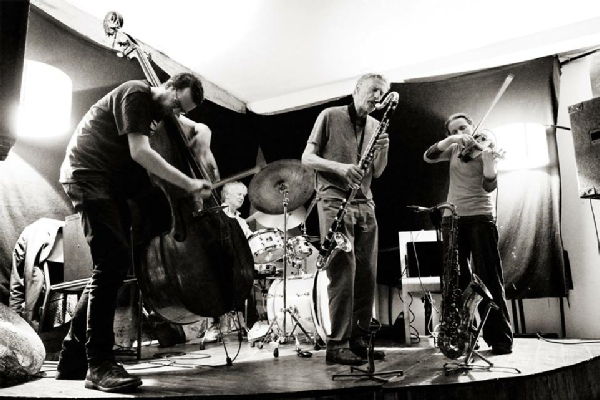 Konik plus - Dominic Lash, Roger Telford, Me & Yvonna Madga, Cafe Kino, May 2018